This shop has been compensated by Collective Bias, Inc. and its advertiser. All opinions are mine alone. #WatchHowIStyle #CollectiveBias
You know how it goes, Halloween ends, and it's straight to Christmas. Right? Well, I'm not one to skip right over Thanksgiving, because I love Thanksgiving, and I'm not pulling out my Christmas decorations just yet; but I am starting to think about gifts and making some plans for my Black Friday shopping.
You may have read on this blog before, just how much I love Black Friday, it's a tradition my friends and I have year after year, and I almost always do all of my Christmas shopping on that one day! So, I plan. There are a few places we always visit each year, one of those places being Macy's. There are deals to be had at Macy's, and most of the time you can pile some coupons on top – it's always a win. I had the opportunity to shop Macy's for their Anne Klein watches recently and it got me thinking – these pretty little watches would make the perfect gift for some lucky lady on my holiday shopping list, who appreciates a little sparkle, just like me. So, they're on my list.
Holiday Gift Idea For Your Best Girlfriend (Mom included)
Speaking of sparkle, the holidays and sparkle go hand in hand. So when I picked out my Anne Klein watch, I picked a Swarovski crystal, rose gold toned beauty, with a mesh strap. It's on trend and goes perfectly with an equally sparkly bracelet. A watch has become an everyday necessity for me over the last year or so. I used to always just use my phone to tell the time, but since I started wearing a watch (for fashion purposes first of course) I've come to love being able to track the time and my day, without breaking out my phone. It's like switching from a tote to a cross body bag, it's so freeing! What better gift, than giving someone a little fashion freedom. I know a few of my girlfriends (my mom included) could use that. Although I settled on the Swarovski crystal style as my favorite, there were so many styles to choose from – in different sizes and materials, to fit every girl's personal style. I could see my mom loving one of the bracelet and watch box sets.
On this particular day, I broke out a little holiday style to go with my watch; with an olive turtleneck, black mini skirt and booties. I also threw on a classic blanket scarf for a more holiday vibe, but I'll be honest, I would actually skip the scarf next time. Blanket scarves feel like they just get in the way sometimes, plus this turtleneck is pretty cute on its own. I love that the watch has a little bling, without being too much, so I can wear it dressed up and dressed down.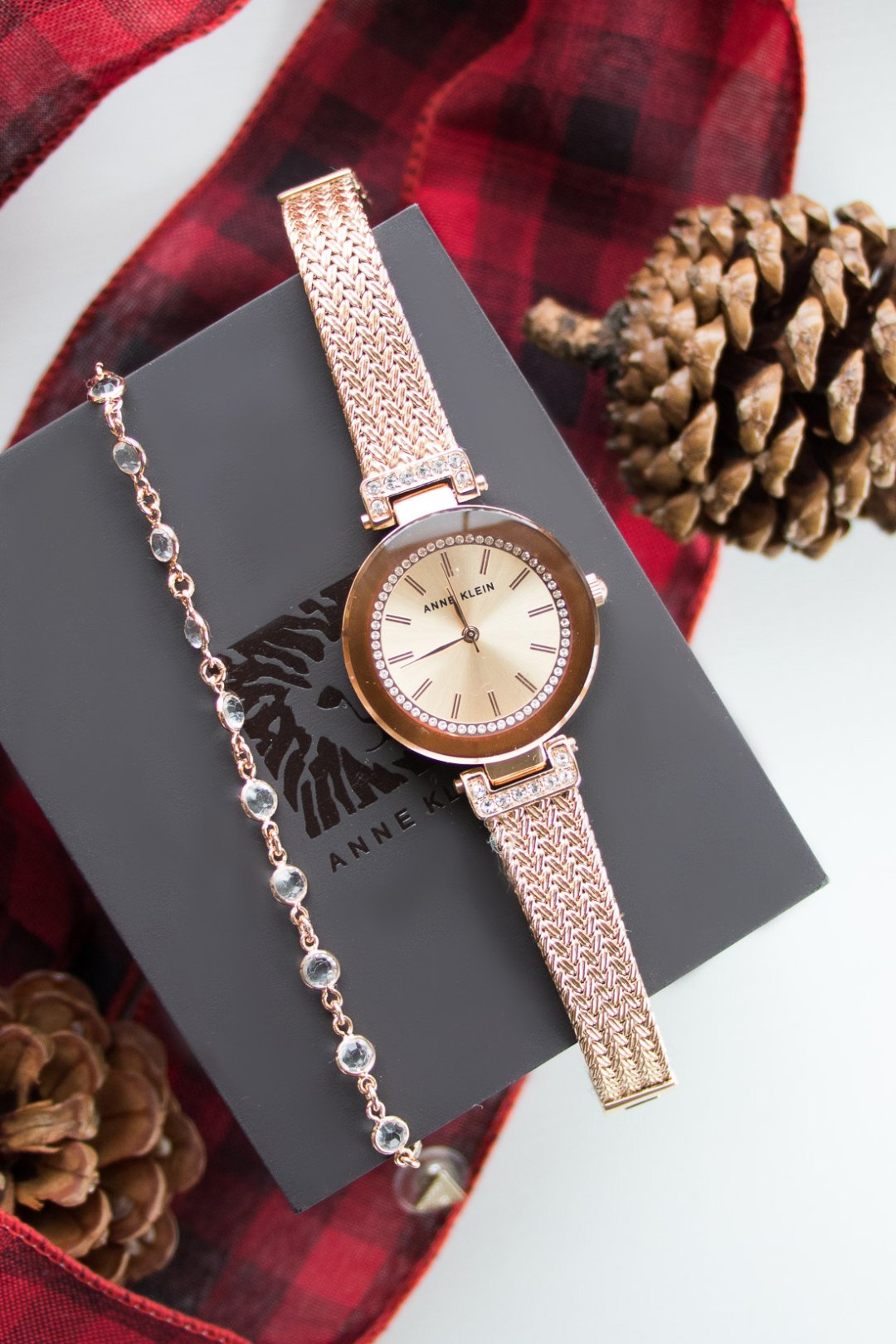 Click the picture to shop.
So, what about you, are you already planning your holiday shopping? Maybe you're a Black Friday fan like me? Whenever you shop, make a stop by Macy's this season, you're sure to find something they will love.
-Brooke