This shop has been compensated by Collective Bias, Inc. and Conagra Brands. All opinions are mine alone. #ServeUpSummer #CollectiveBias
I'm all about eating well, but I'm also all about enjoying myself. Balance, right?! When summer rolls around, there is one thing I just have to have at least once; a good hotdog, preferably, on the grill. My hubby is a grill master and is always up for trying new combinations. So, although I love a classic ketchup and mustard hot dog, he wanted to cook up something a little different for a summer BBQ.
Cheddar Stuffed Hotdogs
In our quest to come up with a little something different for our hotdogs, we started to go down the path of a hamburger, hotdog. We've seen the hotdogs with actual hamburger meat on top, but didn't want to go that far. So, we just sliced our dogs down the middle, stuffed them with cheese and topped them with traditional hamburger toppings. Delish!
First things first, a trip to the store! I think my favorite part of any party is grabbing the supplies. Maybe it's the shopper in me, but that part is exciting! We went to Walmart to grab Hebrew National® Hotdogs, Gulden's® Mustard and Hunt's® Ketchup. Then we grabbed fresh corn on the cob, watermelon, berries and toppings for our hotdogs!
Ingredients:
Hebrew National® Beef Franks
1/4 cup chopped or sliced cheddar cheese
Hunt's® Ketchup
Gulden's® Mustard
Kosher Pickle Sandwich Slices
Mayonnaise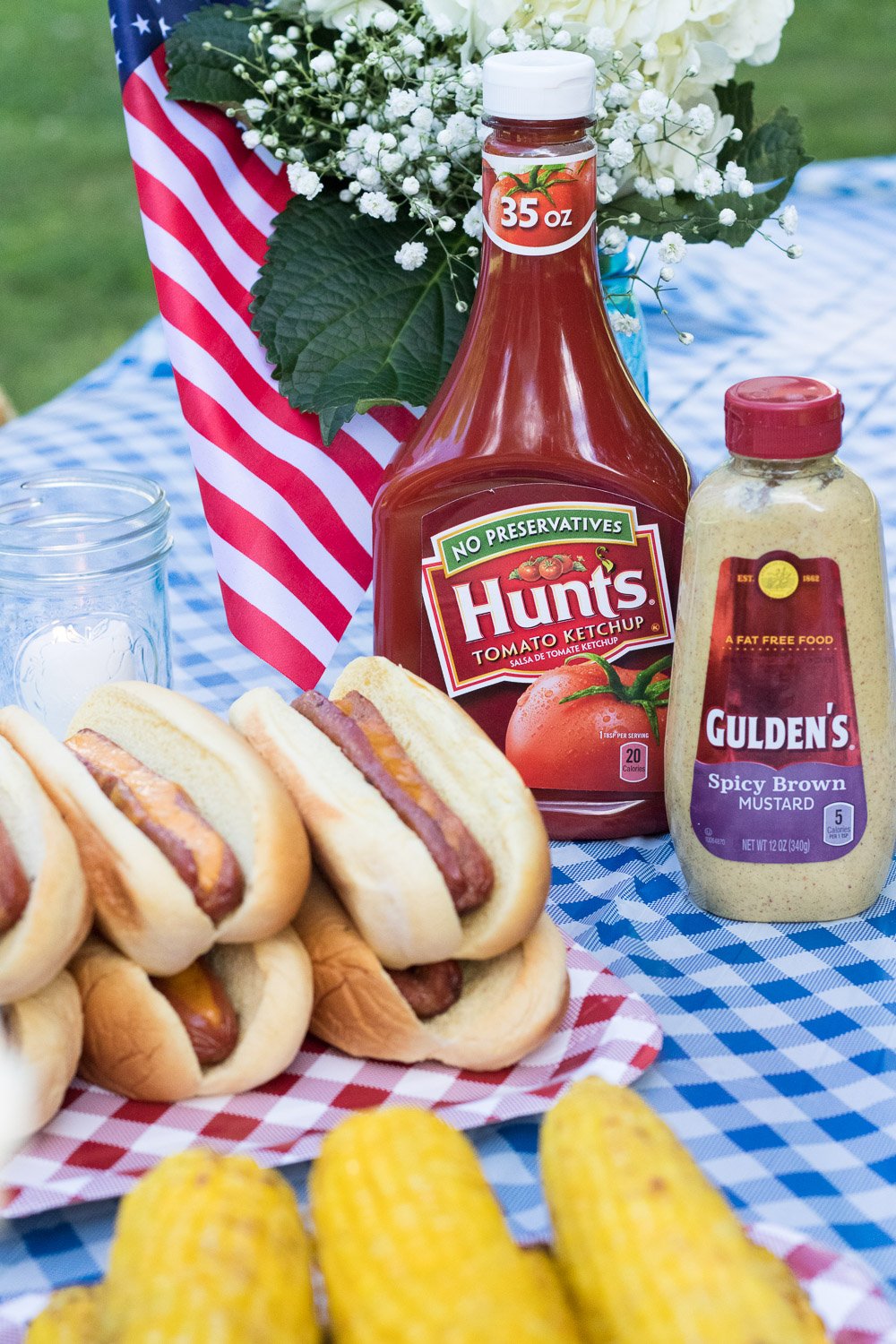 To enable screen reader support, press ⌘+Option+Z To learn about keyboard shortcuts, press ⌘slash
Hover over this image to shop!
First, we sliced the hotdogs down the middle and stuffed them with cheese. You can use shredded cheese, or chop some cheese off a block and stuff. We chopped small pieces off of a block and really stuffed them in, so they wouldn't run all over the grill. Then toss them on the grill.
Once the dogs are cooked, get to topping! We started with a little slather of mayo on one side and then topped each with Gulden's Mustard and Hunt's Ketchup.
Then we stuffed a pickle slice in the side and got to eating!
Me being a ketchup and mustard only kind of girl was a little skeptical, but they were tasty!
I hope you eat a hotdog or two this summer; what's a BBQ without a classic! You can find more summer recipes and ways to #ServeUpSummer here.
-Brooke